By Laura Dixon
When we think of school or education, our first thought usually goes to academics like math, science, and writing. While these courses do take up the majority of the school day, there are many other skills that are taught and refined at school.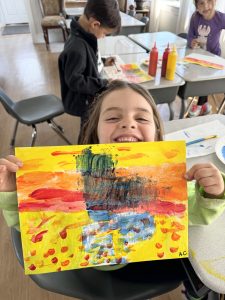 These skills include collaboration, sharing, patience, self-discipline, and much more. Some of these skills are naturally used throughout the day when participating in activities like partner work, playing a group game, or being required to consistently turn in homework. Effective teachers and schools will take it one step further by providing students opportunities to learn these skills, practice them in a safe environment, and apply them to other areas of their lives. 
Among these many skills and characteristics grown at school, is self-esteem. Self-esteem can encompass a lot of different factors such as self-confidence, how one values themselves and understands their strengths, and resilience to overcome difficult experiences. Research shows that self-esteem plays a huge part in being successful at school and in life. When children have high self-esteem and feel better about themselves, they are more successful in school (Wiggins, Schatz & West, 1994). If self-esteem is so important for life and school success, a natural question to ask is how do we foster self-esteem in children?
While self-esteem is fostered in many environments, school is one of the most crucial as students spend approximately 35 hours at school each week. Here, at Destiny School of the Arts, we take a holistic approach to education and fostering children's emotional development. While we offer rigorous academics, we also heavily incorporate art enrichment. Our arts focus includes classes like music theory, drama, art composition, and much more. Students have the opportunity to participate in school performances, show their artwork in public exhibits, and participate in community service projects. Our 4th and 5th grade students are able to participate in passion projects and life skills classes that allow them to explore and express their strengths, talents, and interests.
These classes also serve as a way for students to practice autonomy in their academic choices because they are able to choose the topics they want to learn and research. One of the most important factors of self-esteem in a school environment is teachers supporting their students' autonomy (Scott et al., 1996). Students also build their self-esteem at Destiny by acting out plays in drama class, showcasing their art in our school art show, singing in performance club, performing a dance at a school assembly, and mastering a song on an instrument. With the diverse classes offered, every student finds an area in which they can thrive. Students are taught, encouraged, and empowered to act on their creativity, inspiration, and unique talents. Allowing students opportunities to express their creativity and imagination in many different forms aids in developing higher self-esteem (Scott et al., 1996).
One of the best ways to encourage and cultivate self-esteem is to provide ample opportunities for not only success, but also the opportunity to fail in a safe environment. At Destiny, we pride ourselves in fostering a culture of kindness. This culture of kindness is not just seen among staff members at our school, but is the same culture that is seen throughout our student body. Our students are empathetic, caring, and compassionate. From participating in community service projects to having middle schoolers mentor kindergarteners, our school sets students up to build strong and impactful relationships. Within academics, we use partner work, group projects, and peer-evaluations to help build a constructive and collaborative community.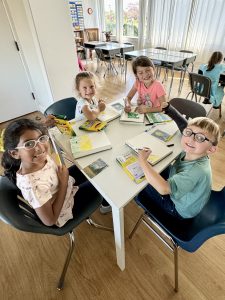 In our arts program, students evaluate each other's artwork with praise, applaud those who step outside their comfort zone to perform on stage, and empower each other. Our students learn from one another, encourage each other, and work together to accomplish learning. At Destiny School of the Arts, we are proactively setting up opportunities within our learning structure for students to build their self-confidence, establish their independence, acknowledge their competencies, persevere through difficult circumstances, and understand the value that they bring to our school, others, and the world. 
Citations: 
Wiggins, J. D., Schatz, E. L., & West, R. W. (1994). The Relationship of Self-Esteem to Grades, Achievement Scores, and Other Factors Critical to School Success. The School Counselor, 41(4), 239–244. http://www.jstor.org/stable/23900414
Scott, C. G., Murray, G. C., Mertens, C., & Dustin, R. (1996). Student Self-Esteem and the School System: Perceptions and Implications. The Journal of Educational Research, 89(5), 286–293. https://doi.org/10.1080/00220671.1996.9941330