Where Art & Academics Meet!
…unlock your child's inner genius!
Creative Arts stimulate and develop critical thinking, cognitive, and problem-solving skills. Destiny School of the Arts brings your child's imagination to life!
TESTIMONIALS
 

"I love the program and the teachers. Very happy at Destiny! "

 

"Destiny Preschool's program has taken our son's love of music to the next level! He is so excited to go to school and his imagination has expanded. It was the best choice we could make for him."

 

"I would recommend Destiny 100%. My child is excited to come to preschool everyday and when I pick her up from the after-school care, she is always smiling. As a parent, there is nothing more important to me than the well-being of my children when they are in the care of others. Destiny has earned my full confidence!"

 

"The teachers are caring and enthusiastic and our daughter comes home singing dozens of new songs and demonstrating dance moves and physical skills. And, of course, the art projects she regularly brings home shows us how much creativity is encouraged at Destiny. We're enjoying school as much as she is."

 

"Teachers are warm and caring and attentive. Administrative staff is very responsive and helpful."

 

"My 4-year old daughter loves having opportunities to do music, movement and art at Destiny. She has fantastic teachers who are loving, kind, and very professional. We have been very happy with the whole experience." 

 

"Our daughter comes home everyday having learned something new, and even more importantly, excited that she has learned it! We love that Art and Spanish are taught each day. We have truly enjoyed watching our daughter learn and blossom at Destiny. "
DESTINY DIALOGUE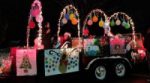 The creativity of the students, staff and parents at Destiny School for the Arts was on full display at the Leesburg Christmas and Holiday Parade on Saturday. The school's colorful float won the town's Holiday In Lights trophy, sponsored by Loudoun Now. Destiny School for the Arts' float was decked with balloons and plastic cups that […]
NEED MORE INFORMATION?
Please contact if you need more information on the programs, rates, or our facilities. We would be more than happy to help you!