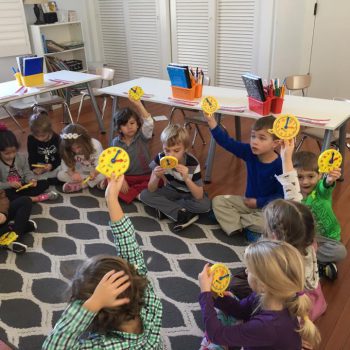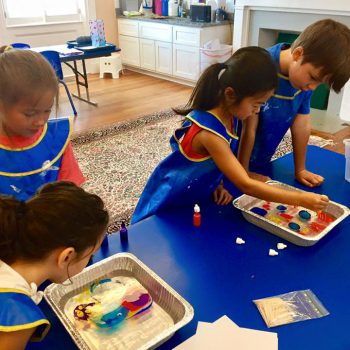 Destiny School of the Arts is growing into a K-5th grade elementary school focused on academics and arts integration! We have built a successful kindergarten program that began in the Fall of 2012. Due to both the success of our approach and overwhelming parent request, we launched an elementary school based on academic excellence through arts integration. In the Fall of 2016, we began with our first ever 1st grade class. Each year we will add an additional grade until we are a complete elementary school (K-5th grade). We are offering half & full day Kindergarten programs through 3rd Grade for the 2018-2019 school year!
Monday – Friday | Full Day, 8:20 a.m. – 3:15 p.m.

Coupling academics with performing arts, our elementary school program excels  at stimulating and developing the imagination and critical thinking of our students.

At Destiny School of the Arts, our curriculum is designed to appropriately challenge all learners. Differentiation, arts integration, and hands-on learning are at the core of our instruction. We happily take a step back or forward to meet each child's individual academic needs and ensure true academic growth.

Our class size ratio for the academic portion of Kindergarten is 1 to 10 (max. 16 students).

 
Monday – Friday | Half Day, 12:30 p.m. – 3:15 p.m

Public school and home-school students benefit from our afternoon Enrichment Program that focuses on performing arts, creative movement, and music. Our curriculum includes beginning piano.
Curriculum
At Destiny School of the Arts, we have developed a unique curriculum scope and sequence to aid us in meeting all of our learning objectives.  Our primary curriculum resource for both math and reading is the Abeka curriculum. Our social studies and science objectives are largely founded in the Virginia Standards of Learning (SOLs) and discovery learning methodology. Additionally, like Loudoun County Public Schools, we use the D'Nealian method to teach handwriting, as this style of writing lends itself to a more seamless transition to cursive writing. We also emphasize God's love, treating others the way we would like to be treated, and the importance of Judeo-Christian principles, such as honesty, responsibility, and integrity.

Formative and summative forms of assessment are utilized throughout the year. And while we have these assessments, we are not a "test-driven" school. Our curriculum focuses on collaboration, critical thinking, creativity, and communication, also known as the "4 C's." We believe these skills to be imperative and beneficial to students as they develop into 21st century citizens.

We value teacher expertise, best practices, and quality resources. Teachers and administrative staff regularly collaborate to adapt and improve teaching methods and our curriculum. One important approach at Destiny School of the Arts is to teach across the curriculum. We strongly believe that our approach to instruction creates meaningful experiences that ultimately result in true learning for our students!

An Example of Teaching Across the Curriculum:
Our academic teacher may be teaching a unit on Mexico and its geographical location in relation to the United States. Simultaneously in art, students learn about a prominent Mexican artist and imitate that artist's works or techniques. In Spanish, they may read Mexican folktales and learn further Spanish vocabulary through studying the country's cultural characteristics. In Creative Movement, they will learn the Mexican Sombrero dance, and in Music they will be exposed to famous Mexican bands and musicians, while working on rhythm patterns using maracas.




Art

The lives, art, and techniques of famous artists will be explored in depth by our students.  Examples of artists they will learn about include Matisse, Kandinsky, Van Gogh, Carle, Cezanne, Warhol, Renoir, and Pollock. Students will also study various elements of art adapted to each grade level (i.e. color, line, shape, composition, balance, harmony, and movement). Additionally, there will be special focus on techniques such as scissors, pastels, pencils, painting, clay, pen and ink, pastels, painting, and mixed media.

Creative Movement

Students receive an introduction to several genres of dance, including ballet, tap, Latin, and jazz. They also learn about health topics such as good nutrition, bones and joints, muscles, and the respiratory system. Students also receive an introduction to the rules and skills of basketball, football, soccer, and volleyball as part of our sports skills curriculum.

Music

We offer a well rounded music program that includes musical theory, music appreciation, and an introduction to musical instruments.  The musical theory curriculum focuses on the solfedge scale, basic rhythms, the bass staff, and treble staff. In music appreciation, students learn about and experience the sounds of several musical genres, such as Classical, Motown, Bluegrass, and Rock & Roll. Our students will be introduced to the piano, bells, vocal technique, rhythm instruments, and duet as well as ensemble performance. Students will have opportunities to demonstrate their many newly acquired skills at school performances and recitals.
Enrollment For the 2018-2019 School Year Is Now Open
Now that you know how much we care about your child's education, let's get them enrolled today!